Progress Notes
If you have any questions about this form, please call the CYFN Provider Relationís Department at (858) 560-2626 x305 or email: HelpDesk at cyfn dot org
USAGE NOTES:
When you're done filling out your Progress Note form, please check it over to make sure it's complete. Your form submission will be used for billing, so be sure to complete all the fields you can. Our HelpDesk can provide you with any unknown account names or numbers.
If you run out of time while keying a Progress Note, copy your text to a Word document or notepad file, to copy/paste another time.
Please try to keep your Progress Notes 'efficiently brief'. If your note is too long you will not be able to get a complete print of it.
Be sure to print the completed form to your printer, in LANDSCAPE mode, so you'll have a copy for your own records. If you find an error later, call the HelpDesk with the change.
Once you have a complete, accurate print in your hands, ONLY THEN should you click [SUBMIT]. Once you click [SUBMIT], the form closes and is no longer available for editing or printing. ''Once you hit Submit, that's it.''
After clicking [SUBMIT], the form closes and you get a submission number. You do not need to record this. Click Continue to put in another Progress Note, or close the browser to quit.
Please use only letters and numbers, avoid using symbol characters other than period, comma or hyphens.
Please don't hit Alt-Left or the [<-BACK] button unless you wish to abandon your Progress Note form. Just like any web form, if you back out, you lose any entries in the form.
If you can't see all of the form, hit F11 to enter Internet Explorer's Full-Screen mode. Hit F11 again to exit Full-Screen mode.
Hopefully, you are using an IE browser, version 5 or better. IE on Macintosh may work. If you try this, let us know how it went! Thanks!
Click this picture below to open and fill out a Progress Note form.


Click this picture above to open and fill out a Progress Note form.
If you are using hi-res (1600x1200) video, you can use the link below.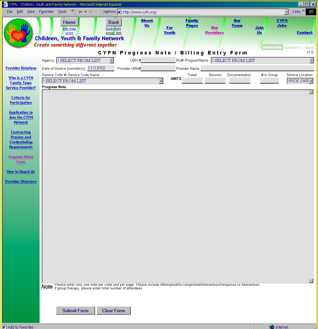 Progress Notes input data form — for High Resolution Monitors